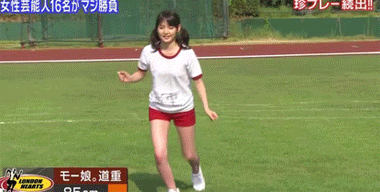 I'm running out of Sayu-hurting-herself gifs to illustrate how hard we fail. Anyway, I thought we'd try an interesting classic for this month.
The November Challenge is:
"Body Swap"
How does it happen? Who switches with who? Do they keep it a secret or tell everyone? The answers are up to you, but you should include at least one of the following girls in your story. (None of the girls on the list have to be involved in the swap. They just have to be a big part of the story - the sole confidant, the suspicious person who must be avoided... whatever.)
♥ Arai Manami
(Egg)
♥ Ishimura Maiha
(former Berry)
♥ Kitahara Sayaka
(Egg; MilkyWay)
♥ Korenaga Miki
(Ongaku Gatas)
♥ Miyoshi Erika
♥ Morozuka Kanami
(THE Possible)
♥ Nagazawa Wakana
(Egg)
♥ Ogawa Saki
♥ Sawada Yuri
(ex-Ongaku Gatas)
♥ Shimizu Saki
♥ Takeuchi Akari
(Egg; new Minimoni; also, Yajima Maimi's cousin)
♥ Tanabe Nanami
(Shugo Chara Egg!)
♥ Tanaka Reina
Maybe an Egg becomes a star or someone who graduated gets switched and realizes how much they missed the spotlight. Maybe some random fan suddenly becomes their favorite idol. I don't know, but I'd love to find out so get to writing, everyone!
If you have any questions, comments or suggestions, just ask here. And if you're not a writer but have a great plotbunny, leave it here for someone else to adopt.
No responses for October, including me.
Today's date (10-10-10) and the fact that there are ten UFA girls who have October birthdays gave me an idea for a little challenge: I'm going to start a thread for every girl, and we're all going to work together to write a 100-word drabble for each one, one ten-word sentence at a time. Even if you've never written fic before, you can write ten words, right? Of course you can. Just hit "reply" to the drabble you want to continue and write a single sentence with exactly ten words. A drabble is complete when there are ten sentences. (And writers - pay special attention to both Akiyama Yurika and Hashimoto Aina's threads if you're writing for either one.) You can write as many sentences as you want, as long as you don't do more than two in a row in the same thread/story.
Just two, but that's two more than July/August. Let's try for four in October! And since it's so relevant to our community, our girls being singers and all, I'm going to keep the
music shuffle meme
a standing challenge for this community, so give it a shot if you didn't get around to it last month!
The October Challenge is:
"Halloween"
The actual holiday itself doesn't have to make an appearance, but your fic should be related to the general feel of Halloween somehow: costumes, candy, maybe write us a spooky horror fic.
In order to fit the challenge, you must also use one of the following girls:
Akiyama Yurika (THE Possible)
Ayaka
Fukumura Mizuki (Shugo Chara Egg!)
Hashimoto Aina (THE Possible)
Kudou Haruka (Egg)
Mori Saki (Tomoiki Ki wo Uetai; Egg)
Niigaki Risa
Ogawa Makoto
Saitou Hitomi
Suenaga Mami (Sheki-Dol)
Yanagihara Hiromi, the Country Musume memeber who died tragically in a car accident, was also one of October's girls. Fanfic would probably be inappropriate, but not acknowledging her feels wrong as well.
If you have any questions, comments or suggestions, just ask here. And if you're not a writer but have a great plotbunny, leave it here for someone else to adopt.
First off, September challenge entries:
Rating:
G
Pairing(s)/Character(s):
GoMaki, Kago, Sayumi, Danielle, Chelsea, (possibly Danielle/Chelsea) & Airi/Reina
Summary:
Just a few challenge responses.
(
I just have four for right now.
Collapse
)
Rating: PG-13
Characters: Takahashi Ai
Genre: Comedy
Summary: Tribute to birthday girl Takahashi. 24 lines based on whatever's on my playlist shuffle.
Warning: Crack ahead. Tread with caution.
(
Read more...
Collapse
)
Title:Playlist
September Challenge
, but there's a music shuffle meme going around in some fandoms right now that would be just perfect for us!
The rules, as they apply to this community, are as follows:
1. Pick one (or more) of the birthday girls from UpFront Fic's
September challenge post
.
2. Choose a Hello! Project related playlist and turn "shuffle" on.
3. For each song, write something inspired by the song featuring the girl you chose earlier. You only have the song length. No pre-planning or writing after the song's over. You can pause to look up the lyrics to the song (
Project Hello
can help you with that) but no skipping songs even if you don't know what they're about.
4. After you write 10 songfics, post! Make sure to include the song name/artist and share your results at
UpFront Fic
.
Of course, you don't have to use one of the September girls in every one of your fics for it to count as a response to the challenge and you don't have to stop at ten songs. If you don't quite get to ten, that's also no reason not to post, either as a separate entry or as a reply in this post.
This is a great way for people who don't usually write to get their feet wet, so to speak, so don't be afraid to try something new!
I created a playlist for myself to use on this challenge (because I can't figure out my new mp3 player) and you're welcome to use it too.
Just click here!
It's only got about 50 songs on it, but that should be enough for now.
I didn't know it when I issued the
September Challenge post
, but I wanted to mention it in a separate post in case anyone didn't see that.
If you have fanfiction featuring Up-Front members that was written before this community was created, you're more than welcome to post it here.
We just ask that instead of posting each story individually, you make
one
post with links to all of your old H!P fics. Challenge fics that you don't quite finish in time are welcome too, so don't just abandon them because the month's over.
This came up in the comments to the
So we're going to shake things up a bit this time. There's no contest, no voting, no prizes - no pressure. Just some ideas to spark your muse and get this community moving again.
The theme for September is:
"Songfic"
Interpret that any way you want - just make it a Hello! Project song and use one of the following September girls.
Abe Asami (not Nacchi's little sister - the H!P Kansai girl)
Chelsea (Coconuts Musume)
Danielle (Coconuts Musume)
Goto Maki
Kizawa Runa (one of the new little Eggs)
Takahashi Ai
If you have any questions, comments or suggestions, just ask here. And if you're not a writer but have a great plotbunny, leave it here for someone else to adopt.
Okay, so we all kind of dropped the ball on the last challenge. Actually, it went more like this -
S/mileage Logo Tape
This cute soft pink tape features the S/mileage logo and is of usual tape-size.

【Apply here】

prize of the week
-August Week 4 contests+-
Deadline: August 29th
Announcement date: The 4th week of September.
Lineup: VAMPS , NoGoD , S/mileage
Title:
More Than Three (or
Jesus Christ it's a lion get in the car!!!
)
Rating:
PG-13
Characters:
? (surprise will be ruined otherwise), Ishikawa Rika (cameo)
Warning:
Contains drunk!Rika. You have been warned.
(
Read more...
Collapse
)